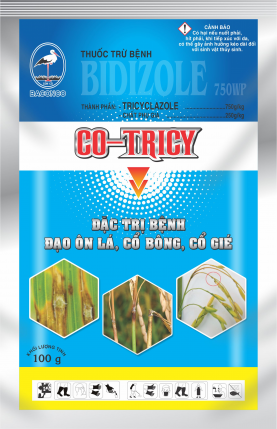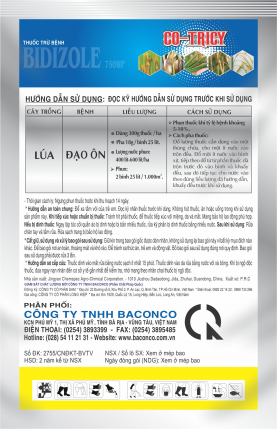 CO-TRICY
Special treatment of leaf blast disease, cotton neck, rag neck.
Prevent fungus from entering and causing harm.
Limit the resistance of fungal diseases.
Help the plants to be green and healthy.
Net weight: 100g
Tricyclazole : 750g/kg.

Additives: 250g/kg.
Subject: Rice
Harmful Diseases: Taoism
+ Dosage: Mix 18g / bottle of 25lit
+ Amount of water sprayed: 400-600 liters/ha
+ Spray: 2 bottles of 25 liters/1000m2
Formula: Pour the required amount of medicine into a container, add a little water and mix well. Pour a little water into the spray bottle, then slowly pour the previously mixed medicine into the bottle and stir well, then continue to add water according to the prescribed dose, stir well before use.
Isolation period: Stop spraying 14 days before harvest.
| No. | Files. | |
| --- | --- | --- |
| 1 | Certificate of Accreditation ISO17025 2017.pdf | Download |
Prevent fungal diseases from entering and damaging plants.
Supports healthy, green growth of plants.